pro exclusive
Traveling Stylist Kit
About The Kit
Insurance for colorists!
During every chemical service, disulfide bonds are broken and reformed to create a different color, texture, or curl pattern. OLAPLEX's patented technology mitigates damage by seeking out and repairing broken disulfide bonds during the process. When used together, the two-part system allows salon professionals to push the limits of creativity while protecting the health & integrity of the hair.

Kit includes:
(1) 3.3 oz. /100mL N°1 Bond Multiplier
(2) 3.3 oz. /100mL N°2 Bond Perfector
*Traveling Stylist Kit is perfect for on-location use for up to 30 applications.
Ingredients:
Free of DEA, Aldehydes and Formaldehyde
ALL INGREDIENTS
Nº.1 Bond Multiplier:
Water (Aqua/Eau), Bis-Aminopropyl Diglycol Dimaleate, Phenoxyethanol, Sodium Benzoate

Nº.2 Bond Perfector:
Water (Aqua), Bis-Aminopropyl Diglycol Dimaleate, Propylene Glycol, Cetearyl Alcohol, Behentrimonium Methosulfate, Cetyl Alcohol, Phenoxyethanol, Glycerin, Hydroxyethyl Ethylcellulose, Stearamidopropyl Dimethylamine, Quaternium-91, Sodium Benzoate, Cetrimonium Methosulfate, Cetrimonium Chloride, Fragrance (Parfum), Polyquaternium-37, Tetrasodium EDTA, Benzyl Benzoate, Etidronic Acid, Ascorbic Acid, Phytantriol,Tocopheryl Acetate, Aloe Barbadensis Leaf Juice, Panthenol, Simmondsia Chinensis (Jojoba) Seed Oil, Citric Acid, Potassium Sorbate
All Hair Types
Cruelty Free
Gluten Free
Nut Free
Paraben Free
PH Balanced
Phosphate Free
Phthalate Free
Vegan
Where:
Please see individual product instructions below.
When:
Can be used with all chemical services, including color, lightener, direct dyes, toners & glosses OR as a Stand-Alone Treatment.
For:
All hair types, especially for those with visible damage.
No.1 Bond Multiplier:
Use as an additive to lessen damage during chemical processes.
OLAPLEX Stand-Alone Treatment™:
Mix No.1 with water and apply to hair as the first step in our Stand-Alone Treatment for more intense repair.
No. 2 Bond Perfector:
Apply after chemical processes to repair any remaining bonds that were not relinked during the first step of the service.
OLAPLEX Stand-Alone Treatment™:
Use No.2 by itself as a Mini Treatment to provide additional reparative benefits during other salon services.
SUSTAINABILITY
Healthier hair, healthier planet.
We are committed to developing products that deliver dramatic results while respecting environmental and human health so you never have to choose between good hair days, good health, and doing good for the planet. To help reduce our carbon footprint, we limit the use of secondary packaging for the majority of our products. Each product without a box helps:
We save
0.7 Gallons
of water per product
We eliminate
0.4 LBS
of greenhouse gas emissions per product
We save
44,000 Trees
A year from being cut down
We save
8,239 Acres
Of US land from being deforested
Want more info on our professional products?
All the information you need to confidently apply OLAPLEX on your clients.
View The Manual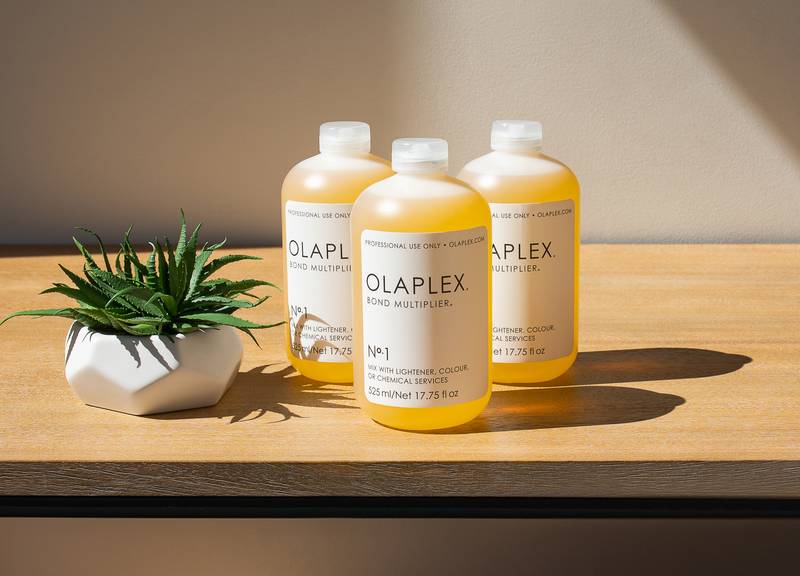 How It Works
A single molecule, free of silicones and oils, dramatically improves the hair strength, protects from within, and provides immediate results.
LEARN MORE
OLAPLEX Professional Certification
Complete the OLAPLEX Certification today and enjoy unrestricted access to ALL of our Educational resources.
Get Certified
Discover the bond builder.
See and shop customer photos, plus add your own. Use #OLAPLEX to share your hair journey.
pro exclusive
Traveling Stylist Kit